Your custom home's entryway is the first thing your guests see. It's what welcomes them into your home, and sets the stage for the rest of your home's style.  If you're building a custom home or considering a custom remodel, here are a few popular entryway design trends perfect for any style or taste:
Bold Walls: Totally 2019
Bold, textured walls are a signature design trend of 2019, and where better to make a grand impression than in your entryway? Smaller entryways benefit from bright, patterned wallpapers, while larger spaces can benefit from bright, solid colors and bold, textured wallpapers. Balance out your bright entryway with minimalistic and classic decor that adds to your look tastefully, without seeming cluttered.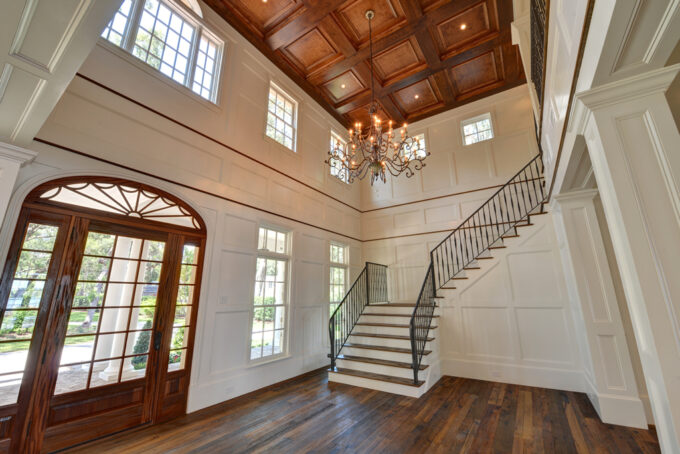 Timeless Neutral Palettes
If you're looking for a custom home with a classic, timeless feel, go for a grand entryway in neutrals. Bright white walls with black or natural wood trim never go out of style, especially when paired with plenty of sunlight and a few splashes of color from greenery or an artful wall hanging.
Elongating Vertical Lines
If you're working with a smaller, single-floor entryway, draw guests' eyes up with vertical lines. A romantic floral wallpaper or simple stripes both achieve this effect, making your entryway feel larger, while also capitalizing on the bold wall color trend of 2019.
Large Area Rugs
Area rugs are a great way to add personality and flow to a custom home entryway. A large, textured rug can add luxury and comfort to an otherwise stark or elegant entryway, while a runner works to draw guests into your home, creating an inviting, welcoming feel.

Mirrors Make A Small Space Feel Larger
If your custom home has a smaller entryway space, make it feel larger with a big mirror or a collage of mirrors on one wall. This trick can also help draw more light into a dim space — position the mirror to catch sunlight from a nearby window and it will make the entryway seem brighter.

Sculptural Light Fixtures
Large sculptural light fixtures, like this beautiful chandelier featured in a Konkol Custom Home entryway, work to tie a big room to one focal point. This chandelier brings the wood tones from the floor, the french doors, and wall decor together for a cohesive, well-designed room that welcomes in guests and visitors.

Dramatic Staircases
Nothing adds drama to an entryway quite like a staircase. Elegant spiral staircases give your home a classic, luxurious feel. This straight staircase works to draw all elements of the entryway together while remaining a focal point itself. Beautiful paneling and natural wood steps are accented by the bright white risers, for a clean look that still feels just a bit rustic.
For a grand entryway that welcomes your guests in style, call Konkol Custom Homes at 407-539-2938, or contact us online today. We'd love to hear about your goals for your home's entryway, whether you're planning a remodel or a full custom home build.
Read the rest of our Konkol Design Series Posts