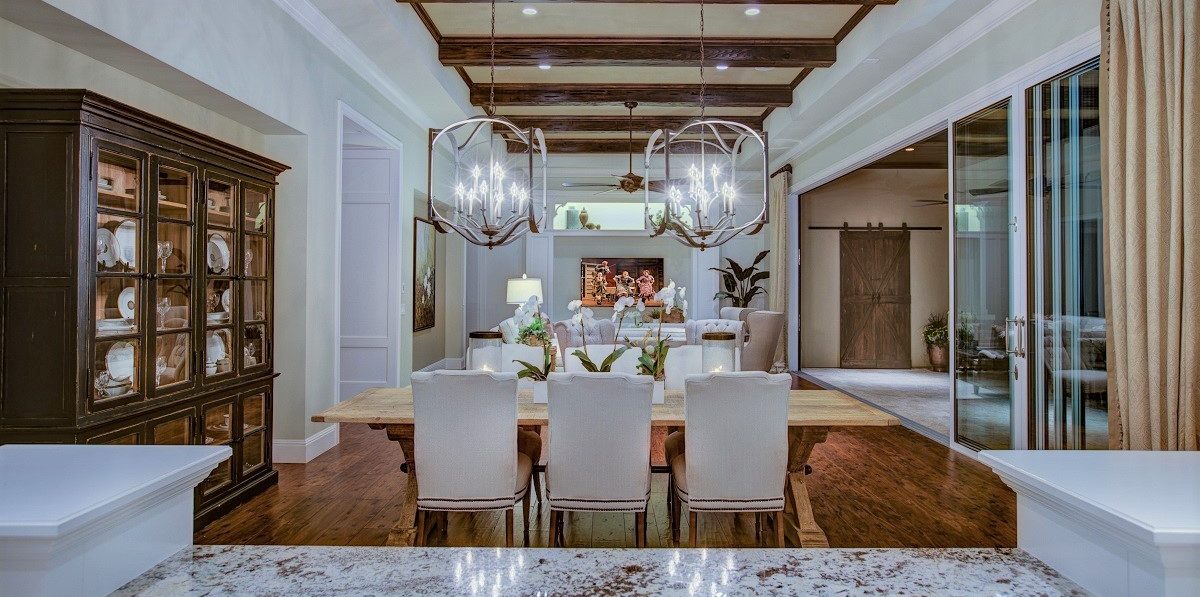 When it comes to building a custom home, your floor plan is where everything starts. It's not always easy to get started designing your own home, but choosing a floor plan will give you and your custom builder the best idea of what your finished home will look like in the end. If you're not sure where to start when it comes to choosing a floor plan, follow these 6 steps for an easy, anxiety-free trip to finding the floor plan that's best for you:
#1 Decide How Much Space You Need
The first step in choosing a floor plan for your custom home is deciding exactly how much space you'll need. How many floors do you want, how many bedrooms, and how many bathrooms? Are you just starting your family or will the kids soon be moving out? Do you want to have a lot of outdoor space left over on your lot, or are you okay with a smaller backyard if your home has all the amenities?
Once you know what you need in your home — an office, a formal dining room, a playroom, a wet bar in the basement, etc.  — you'll have a better idea of how much space you'll need, and how that space will translate into a floor plan. While you probably have an idea of what types of floor plans you tend to prefer, a little research can go a long way, which is why it's the next step!
#2 Do Some Research
Now that you know what rooms you want to include in your brand new custom home, it's time to put it all together in a functional, attractive way. Do a bit of research on sites like Pinterest and Houzz, and even consider going to some walkthroughs just to see what other people are doing with their floor plans. Look at homes similar in size to yours, but don't limit yourself based on style. You're looking for overall flow and the big picture concerns. Even a home that's definitely not your style might still have a great overall home layout.
Don't rush yourself through the research phase. Allow plenty of time to look at all kinds of houses, and weigh the pros and cons of each floor plan you're seriously considering.
#3 Make a Decision Based on Function, Not Finishes
Once you've done enough research that you feel confident in what you like, and what you don't, it's time to make a decision! Although, we recommend you picture each floor plan you're considering as absolute bare bones. It's easy to be swayed by amazing hardwoods in one home, or stunning architecture in another, but it's important to remember at this point, you're just looking at overall flow. With a custom home, you can add in any of those gorgeous finishes later on, but it's hard to make a home truly the custom home for you if the floor plan doesn't suit your lifestyle. So, be sure to make your choice based on function, and then add in the form later.
#4 Understand the Pros and Cons of Your Favorite Floor Plan
Before you go to your builder with your thoughts, consider both the pros and cons of your chosen floor plan. No floor plan is perfect — an open floor plan that lets in natural light can be a little noisy, while a more traditional floor plan might offer more design options and accommodate more rooms, but let in less light. There's nothing wrong with any floor plan you choose; it's just important to be aware that every floor plan has its pros and cons and should be considered before it's made permanent in your new custom home.
#5 Gather a Few Concepts
Now that you're familiar with every aspect of your chosen floor plan, gather a few concepts that resonate with you. What are some images that really exemplify the look and feel of your chosen floor? If you found a floor plan online that you love, pair it with your own ideas, the list of the rooms you want your home to have, and bring it all with you to your next meeting with your builder.
#6 Talk to Your Custom Home Builder
With your concepts, ideas, and floor plan decision in mind, it's time to talk to your custom home builder. It'll be easier to relay your vision to your builder and architect with some concepts in hand. Now that you've done your research, it will be much easier to explain exactly what it is you want in your custom home. A quality custom builder will sit down with you, and perhaps an architect, to go over your plans. They'll listen to what you have to say, and they'll incorporate all of your ideas into one or two blueprints that reflect those decisions.
From there, you can accept their design, or offer up a few changes. Remember, this is your custom home, so it's up to you to make sure it's exactly what you want. Once you're satisfied with the floor plan and blueprints your custom home builder has drawn up, your custom floor plan will be realized, and the next time you see it, you'll be walking through your brand new home!
Choosing a floor plan can be tough. At Konkol Custom Homes, we work closely with our clients and architects to design a floor plan that fits your space and lifestyle. If you're having trouble deciding on a floor plan, we can help talk you through your favorite styles and design themes to find the floor plan that's best for you. Give us a call at 407-466-3882, or check out our gallery of gorgeous custom homes online today!